Here we are with the winners for the contest! [wow, what happened to this past week?? Sorry I've set this aside!]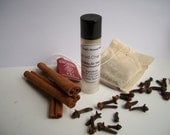 Out of the 4 people who voted, again only 2 of you sent me your name/email so I could know who you were. I've decided to give both of them a free lip balm!
If Chava and Tiyler would make their selection out of the options below and send your address to my email I can send your FREE lip balm straight to your door!!